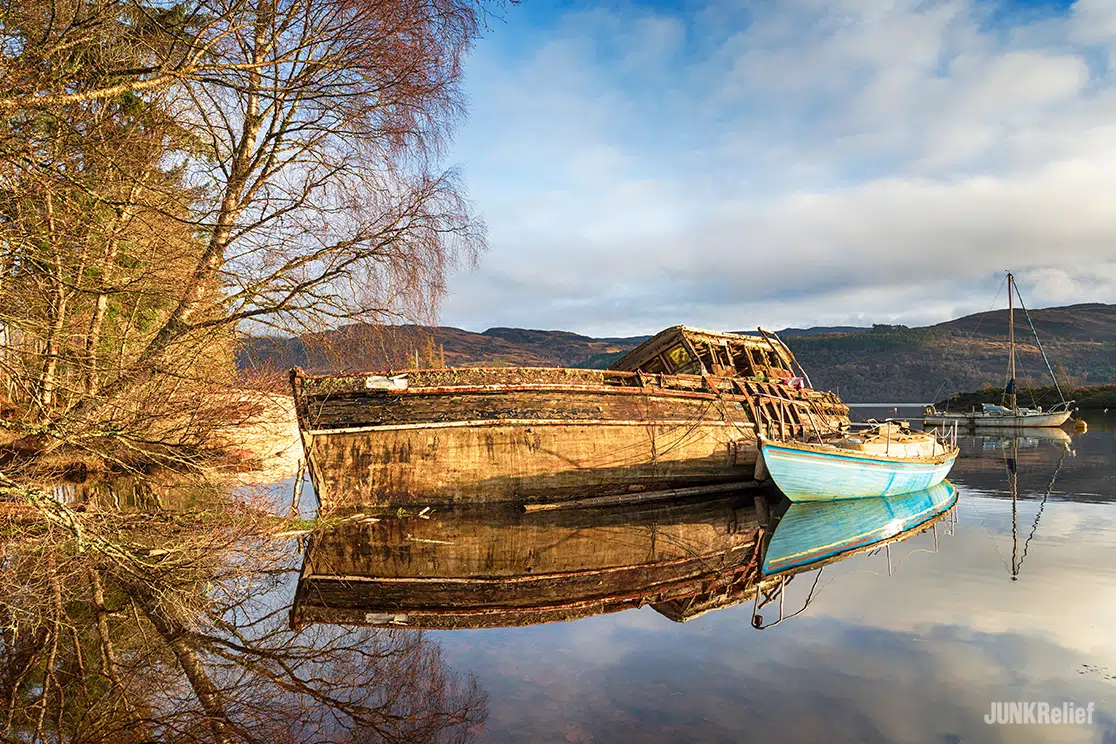 It's common knowledge that the worst thing for any boat is having it sit around on dry land. And when it comes to getting rid of a boat, the bigger the boat, the harder and more complicated it is to get rid of.
The Differences Between a Boat and a Ship
There's a thin line between a ship and a boat; not everyone knows where it lies. Most people assume that a ship is a large, ocean-worthy vessel and boats are just smaller and may not be designed for ocean-going.
A popular saying is that the best way to differentiate between a ship and a boat is to remember that "A ship can carry a boat, but a boat cannot carry a ship." Once a "mode of water transport" weighs over 500 tonnes, it's considered a ship. Under that weight, it may be a boat.
Ships operate in the oceans and high seas and are mainly built for cargo and passenger transportation across the ocean. Boats operate in smaller and more restricted water areas and include:
Ferrying and towing vessels
Sail vessels
Paddle vessels
Kayaks
Canoes
Patrolling vessels
Boats have less complicated equipment and systems. These are all good things to know when you're considering getting rid of your boat.
When the Time Comes to Retire Your Boat
When the essential repairs needed to keep your boat water-worthy cost more than the boat and it's no longer seaworthy, it may be time to get rid of your boat. The cost of disposing of a boat varies depending on its type, composition, and size.
When it comes to getting rid of a boat, there are really only four options. You can:
Sell it
Donate it
Recycle it
Take or have it taken to a dump site
Ideally, you'll actually make a little money when you get rid of your boat to offset the costs of disposing of it.
Tip #1: Sell Your Old Boat
Before you start making phone calls, you'll want to dig out the title and verify that the title is in your name and that it's a "clean" title. And if you've misplaced your boat title, you can go to the DMV and file for a lost title.
If you have a title, the hull is in decent shape, and the engine runs, you could sell the boat. Even if you don't make a lot of money (you probably won't), at least you will get rid of the storage yard expense or the nuisance factor from the boat sitting in your yard. And if you make a couple of hundred dollars, it's all to the good.
If your boat has an outboard motor and has been sitting around unused for a long time, you might want to follow these steps and give it a tune-up before deciding it's not worth anything.
Remove the spark plugs
Oil the cylinders
Replace plugs (if needed)
Check the condition of the gear lube
Disconnect the fuel line from the boat
Check the condition of the fuel
Connect a separate fuel tank with new fuel
Check the oil level or fill the oil injection tank
Connect to a fully charged battery
Start and run the engine on a garden hose
For more in-depth instructions on accomplishing any of these steps, check out this helpful blog post from Born Again Boating.
Places to sell your boat in Chicago include:
Boat Trader: You can sell your used boat or a boat engine on this nationwide boat site. Boat Trader lets you choose from three packages to "sell your boat fast on the #1 marketplace." The options vary with the listed time available and the number of photos you can put on your ad.
Chicago Boaters Marketplace is a Public Buy and Sell Group on Facebook that was "created to allow members to sell boats and boating-related items.
Craigslist All Chicago Boats for Sale lets you refine your search area from Chicago to five districts in Chicagoland. Buyers can search for used boats, boat engines, or boat parts on this platform.
Tip #2: Donate Your Old Boat
If it's not worth selling your boat, consider donating it to a worthy cause (or anyone who will take it). The upsides to donating your boat are:
You won't have to pay to get rid of it
You can ask for a charitable tax receipt
You'll most likely need your boat title to qualify for a tax receipt, but as we showed above, it's worth the phone call and visit to the DMV if necessary.
Places to donate your boat in Chicago include:
Nautical Donations
Nautical Donations works to support Chicago's maritime future. They work with several not-for-profit organizations in the Chicago area. Through the sale of donation boats and equipment, they can help support local nautical organizations that provide boating and educational opportunities to the young and disadvantaged.
Contact Gary Leo at info@nauticaldonations.org or by phone at 773-672-2080 to arrange for a boat donation. Making a donation is tax deductible, and Nautical Donations makes it simple to fill out an online form or call.
You can drop off your used boat during regular business hours (along with the title or ownership documentation) at:
Crowleys' Yacht Yard

3434 East 95th Street
Donate Illinois Boat
Donate Illinois Boat offers seven-day-a-week donation services free of charge. Call them toll-free at 1-888-888-7187 for a five-minute conversation to let you contribute to Illinois community programs for youth, seniors and veterans statewide.
They can take your boat with or without a trailer. Big boats are not a problem for them to take, and all boats are transported free of any charge to you.
Their website says:
"We can help you increase the value of your Illinois boat donation by repairing or restoring old, worn parts through our repair and restoration program, so call today and see if you could earn an increased value for your Illinois boat donation.

If your Illinois boat donation exceeds our minimum of $500, we will provide you with a free vacation offer that is good for three days and two nights at a hotspot destination hotel or a cruise!"
Kars 4 Kids
Kars 4 Kids accepts used boats for donation to help local families. Most boat donations are accepted, running or not. Exceptions are for older boats whose value wouldn't offset the cost of towing. To find out if your boat makes the cut, you can call 1-877-KARS-4KIDS.
They pick up boats in all states, and there is no charge to you for them to pick up your used boat. Here's the information on getting a tax reduction for your donation and some tax filing tips.
Boat Angel
Another nationwide organization, Boat Angel, will also pick up your used boat. You'll get an instant tax-deductible receipt. You can call them at 1-800-227-2643 or fill out the online form.
Boat Angel sends 100% of your donation to help needy people, orphans, the homeless, teen and adult rehab, and prison reform.
Tip #3: Recycle Your Old Boat
If your boat isn't worth selling and no one wants to take it, you may want to consider stripping the boat and recycling its parts. Anything you don't have to pay to dispose of will leave more money in your pocket.
The composition of the hull is the biggest factor when it comes to whether a boat is worth any money. If your boat hull is aluminum, it's worth money at a recycling plant. If it's other metals, it will be worth less. Unfortunately, fiberglass hulls are not recyclable.
Aluminum Jon boats, bass boats, flat boats, or the pontoons from a pontoon boat can be stripped off and the clean aluminum taken to an appropriate yard. It's not just hulls and pontoons that are made from aluminum. Here are some other smaller parts that may be aluminum and worth a little money on your boat:
T-tops
Engine brackets
Jack plates
Seat frames
Bow rails
Fuel tanks
Rod holders
Cleats
Leaning posts
Consoles
Even fiberglass hulls often contain aluminum parts. Using a Saws-all to rip the boat apart and dig for those aluminum pieces can be worth the effort. You'll have to remove the center console and sometimes even cut out the boat's floor.
Look at your engine or have someone look at it to see if there's any value in the whole thing or whether it's only worth the component parts. It's good to know that if you take the engine apart to sell the pieces, you'll have to clean the metal before selling it. This may be more work than it's worth.
Some boat rental companies buy second-hand engines for parts and will strip them down as they need lower units or electrical and fuel components.
Finally, some marine salvage yards will take the entire boat, and much like an auto salvage yard, place it in their yard and charge people to come and strip pieces off of it.
Illinois General Assembly also weighs in on Boat Registration and Safety Act (625 ILCS 43/3-4). Section 3-4 deals with the "destruction, sale, transfer or abandonment" of a watercraft.
The owner has 15 days to notify the Department of Natural Resources if the boat is sold or transferred wholly or partially. When the boat is destroyed, the notice must be accompanied by surrendering the certificate of number.
Once the Department gets the notice and certificate, they'll cancel the certificate and make a record of the cancellation. You're exempt from doing this if your boat is not a power boat. There's no fee for doing this.
Just know that once this step has been taken, the boat cannot be registered or titled again. If you have any further questions, you can call 1-866-716-6550.
You can contact these boat salvage yards in Chicago:
3434 East 95th Street

773-221-9990

3025 East 104th Street

773-721-3100

1015 South Madison Avenue

708-579-0619
Tip #4: Take Your Old Boat to a Dump Site
If none of the three tips above work for you, you are down to the last option of taking your boat to a dump site. Unfortunately, we don't haul away boats (they're pretty hard to fit in the back of our trucks), but there are other companies in the area that do.
Evergreen Junk Removal specializes in boat removals and is "the best boat removal company that you need." They have the proper equipment to remove your used boat and take all safety checks possible for both you and the environment.
Call them at 312-635-5161 or email them through the link above for a free estimate.
Our friends over at Federal Junk Removal can come and haul your boat away for you — fast. You can fill out their online form to get a quote for removing your boat or call them at 405-955-4285. They'll pick up your non-running, non-floating boats, whether the boats are on land or in the water.
You can take your used boat to the Terra Hermosa Transfer Station if all else fails. They're located at 3051 West 48th Place in Chicago and are open 24 hours a day.
Republic Services is a disposal facility with multiple locations throughout Chicagoland. Enter your address, and they'll direct you to the facility closest to you. Open Monday to Friday from 7:30 am to 5:00 pm.
Abandoned Boats
Our state doesn't have a formal abandoned or derelict vessel program administered by a state agency, but they do have laws about them. One of these laws lets "private citizens and state police officers remove abandoned, lost, stolen or unclaimed watercraft if they come into their temporary possession or custody."
According to the State of Illinois Department of Natural Resources Abandoned Watercraft & Labor and Storage Lien, to get a title for an abandoned boat in Illinois:
"The person purchasing an abandoned or unclaimed watercraft at the public sale may apply for a certificate of title from the Department of Natural Resources.

"Application shall be made on the form prescribed by the Department and shall be accompanied by proof of purchase certified by the law enforcement agency having jurisdiction over the watercraft's sale, the appropriate fee, and any applicable taxes that may be required. The title issued by the Department under this Section shall be free of any lien that existed against the watercraft prior to the time the watercraft was acquired by the applicant."
The NOAA Marine Debris Program was authorized in 2006 by Congress to deal with marine debris throughout the country. Chicago has its fair share of marine debris, and great efforts are being made to clean this up around Fordson Island. Twenty abandoned vessels were found and removed over the 21-month project in an effort to restore the "natural onshore and offshore habitat in the oxbow around Fordson Island.
Our mandate here at JUNK Relief is to be part of the solution to removing junk quickly, safely, and environmentally responsibly. While we can't help you with your used boat removal needs, we can deal with almost anything else you want to get rid of!
We hold ourselves to the most professional standards, and our uniformed crew has a lot of experience with many different junk removal situations. From construction cleanup to getting rid of bulky household items, we have tackled it all and are here to help you with your junk removal needs.